Payment
Payment method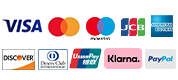 We accept all payment methods from the icons above.
Pay with Paypal
When you use Paypal to place an order, you will be redirected to the PayPal payment page, where you can confirm your payment by logging in with your PayPal username and password.
Even if you don't have a PayPal account, you can still check out. To do this, click "Pay with debit/credit card" and you will be redirected to a secure page where you can enter your credit card information or complete the payment securely via PayPal.


Pay with credit/debit card
Please note that when you make a payment, we will not collect your credit/debit card number or personal information. For questions about your transactions on our website, please consult your card issuing bank for information.

Pay with Klarna
Klarna is a global online payment method, which provides direct payment and installment plans for consumers in many countries around the world.
-You can choose to pay the total amount to be paid in four interest-free installments of the same amount.
-The first installment will be charged directly to the card provided by the consumer when the order is shipped, and the remaining three installments will be charged to the card every two weeks.
-Bank card information only needs to be provided once at the time of order placement, subsequent payments will be charged to the same card.
-Installment payments between $35-$1,000.
*CA resident loans made or arranged pursuant to a California Finance Lenders Law license.
What Should I Do if My Credit Card Has Been Refused When Placing an Order?
Check that all the details you have entered on the checkout page are correct. If it is refused after that, try another credit card. Contact Customer Service if you feel that your card is being refused due to our error. In some cases we may recommend that you contact your credit card company to get the issue resolved. Or you may try other payment methods.